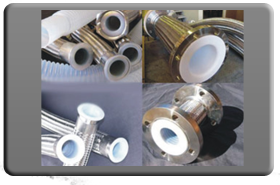 CONVOLUTED PTFE HOSE
Polytetrafluoroethylene (PTFE) is a fluorocarbon plastic with outstanding chemical resistance, a very low coefficient of friction and properties that allow its use in high continuous use temperatures. PTFE Hose has a liner tube made from convoluted, extra flexible grade PTFE, with an outer stainless steel wire braid reinforcement.
DESIGN AND PURPOSE
Convoluted PTFE lined hose has excellent flexibility in bore sizes from 1/4", to 3". It is designed for use in a wide variety of general purpose applications such as automotive, steam transfer, refrigeration and other applications where the temperature resistance, chemical resistance and ease of cleaning of the PTFE liner are necessary requirements.